Reviewed by GREG KING
Director: David Lowery
Stars: Casey Affleck, Rooney Mara, Will Oldham.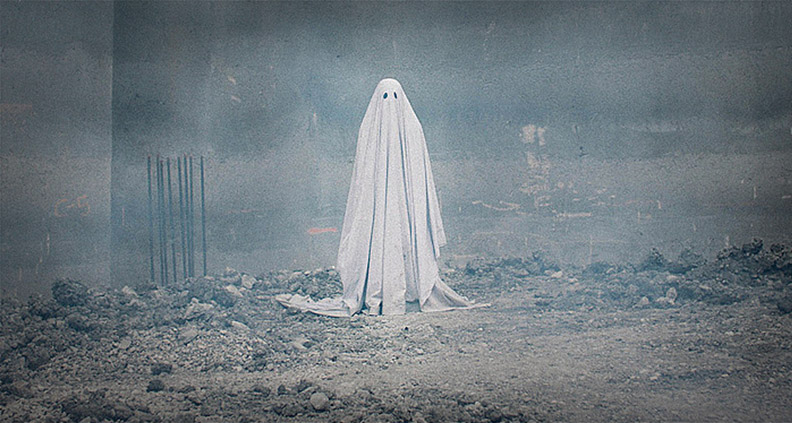 Despite its title, this is not a horror story, nor is it a conventional haunted house story. Nor is it a remake of the 1981 John Irvin film Ghost Story, that was based on a novel written by Peter Straub. Rather this oblique and glacially paced art house drama is a film about a ghost suffering an existential crisis. The film offers a melancholy and haunting meditation on love, loss, death, the legacy we leave behind, and existence itself.
The film follows C (played by Oscar winner Casey Affleck, from Manchester By The Sea, etc), a moody musician and songwriter who lives in a rundown house in a rural town in Texas with his wife M (played by Rooney Mara, from the US remake of The Girl With The Dragon Tattoo, etc). One morning C is killed in a car crash just outside his property. M visits the morgue to identify the body. When she leaves, C's ghost rises from the morgue gurney, and dressed only in a long flowing white sheet he follows her home. He returns to their house to try and reconnect with his wife, but is forced to watch as she grieves and then moves on with her life. C's spectral figure remains stuck in the house and he watches as other residents move in and out over the course of time until eventually the house is demolished to make way for slick, modern high-rise apartment dwellings.
But the spectral presence of C also moves back and forth through time experiencing the early years of America and the new settlers forging a life on the frontier through to a bizarre and unfamiliar garishly lit futuristic environment.
A Ghost Story is the fifth feature film from director David Lowery, who previously gave us the compelling and moody slice of Texan neo-noir with Ain't Them Bodies Saints and the recent live action remake of Pete's Dragon. But here he seems to be channelling Terrence Malick, and in particular the minimalist style he brought to his later works such as the impenetrable The Tree Of Life (which made my list of the worst films of 2011), 2012's To The Wonder, and the even more frustratingly obscure Knight Of Cups in 2015. Like those Malick titles, Lowery uses minimal dialogue which is often mumbled and almost inaudible at times, and a non-linear approach to the sparse and fractured narrative.
And cinematographer Andrew Droz Palermo (You're Next, etc) works in long static takes. He often lets the camera linger on a scene long after the characters have left the room. There is a scene in which the grieving M eats a cake – it lasts for five minutes and was shot in one take – but it will frustrate many in the audience who prefer their cinematic action to be a bit more kinetic. The film has been shot in a boxy 4:3 aspect ratio, like the films of French auteur Xavier Dolan, which gives it a more claustrophobic feel.
Lowery employs a low rent aesthetic to his film, which was shot in secret on a shoestring budget of around $100,000. For the most part, Lowery, who also edited the film, eschews special effects.
The film reunites Lowery with Affleck and Mara, who both appeared in his Ain't Them Bodies Saints. Affleck delivers a minimalist performance as he spends most of his screen time hidden beneath a sheet with the eyes cut out. He is a sad and tragic figure. This is a bizarre follow up to his more emotional performance in Manchester By The Sea. His only real interaction is with the ghost of his next-door neighbour, played by the director himself hiding under a sheet. For her part Mara is good but is not given a lot to do apart from one emotional scene. The most volatile and aggressive performance comes from musician Will Oldham (from Old Joy, etc), who plays a character identified only as "the prognosticator", an unpleasant type who lives in the house and delivers a lengthy monologue about leaving a legacy when you die.
A Ghost Story is oblique, obscure and frustrating, a dull, slow paced and deeply philosophical art house film that explores history, mythology, mortality and spirituality. However, its slow meditative pace will test the patience of many and the film itself will struggle to connect with a broad audience. The film was produced by Scared Sheetless Productions – I reckon Bored Sheetless is more apt!
★