by GREG KING
Watermark is a new documentary about water as a vital resource, and about how water resources are affected by pollution and climate change.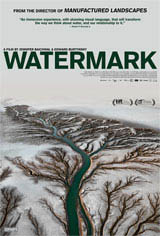 Spanning great waterways alongside man-made interventions, Watermark begs the question, how does water shape us and how do we shape water? With stunning big-screen imagery, the film pays witness to spiritual gatherings on the mighty Ganges, the untouched majesty of Northern British Columbia and the incomprehensible industrial might of the Xiluodu Dam in China. Journeying across the globe, the environmental message becomes inexorably clear. However filmmakers Edward Burtynsky and Jennifer Baichwal (Manufactured Landscapes) leave this entirely in the audiences' hands allowing the diverse, challenging and breathtaking images to do the talking. Edward Burtynsky's painstaking methods of photographing this expansive topic for his latest book Water are captured in fine-grain detail by Nicholas de Pencier's outstanding cinematography. Moving between the production of the book and each of the diverse locations, this award-winning film tells a fascinating and cautionary tale about our inextricable relationship to water.
Watermark premiered at the 2013 Toronto Film Festival. It begins screening as part of ACMI's First Look program from July 5, 2014.
For his Movies At Dusk program Greg King spoke to director Jennifer Baichwal about the challenges in filming this documentary that crosses 10 countries.
http://www.mediafire.com/listen/ttsvhrbwii24qtg/190602_001.MP3