Reviewed by GREG KING
Director: Richard Ayoade
Stars: Jesse Eisenberg, Mia Wasikowska, Wallace Shawn, Noah Taylor, Chris O'Dowd, Sally Hawkins, James Fox, Cathy Moriarty, Yasmin Paige, Chris Morris, J Mascus.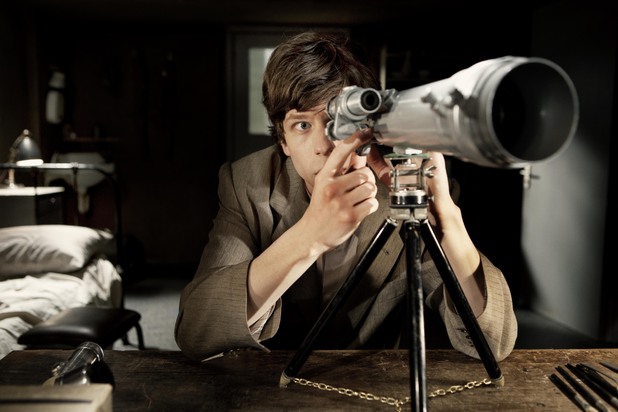 British writer/director Richard Ayoade came to prominence as an actor in popular tv series The Mighty Boosh and The IT Crowd, and his offbeat sensibility and droll sense of humour permeated his 2010 feature film debut as a director, the quirky and lowkey coming of age tale Submarine. His second film as a director takes his absurd sense of humour and weirdness to a whole new level. The Double is loosely based on the 1846 novella written by Russian author Fyodor Dostoyevsky (better known for his epic tale Crime And Punishment, etc). But as envisaged by Ayoade and co-writer Avi Korine (brother of film director Harmony Korine) this dark, depressing and bizarre tale of romance and paranoia is more like something out of George Orwell, David Lynch or Kafka than a dour 19th century piece of Russian literature.
Jesse Eisenberg (from The Social Network, etc) plays a dual role here, and is largely cast against type. He plays Simon James, a timid clerk and bland number cruncher and data processor who works in a mind numbing and dingy bureaucratic office where he desperately tries to impress his superiors. But no-one really notices him, which is somewhat soul destroying. He has his eyes set on Hannah (Mia Wasikowska, who seems to be everywhere at the moment), the pretty young clerk who works in the photocopying department, and who lives in the apartment building opposite. But he is too shy to approach her.
Simon's drab and routine life is abruptly turned upside down with the mysterious arrival of his doppleganger James Simon (also played by Eisenberg), who is the complete opposite personality-wise. James is confident, assured, ambitious, arrogant, and popular with the bosses. He even passes off some of Simon's ideas as his own. And while advising Simon on how to deal with the ladies and become a more confident lover, James steals Hannah from under his feet. But is this more confident doppleganger a mere figment of Simon's mind (a la Fight Club) or is he something more sinister?
Eisenberg is on screen for the entire film and he fittingly dominates proceedings. Although he is more comfortable playing the nerdy, bumbling, nervous type, here he manages to portray the different personality types effectively, finding a hardness and confidence to play the James persona. And Ayoade has seamlessly managed to juxtapose the two characters in their shared scenes.
Ayoade has assembled a solid supporting cast to flesh out the eccentric array of peripheral characters, including Noah Taylor, who also appeared in his Submarine, and his IT Crowd co-star Chris O'Dowd. Cathy Moriarty plays an aging waitress who works in the cafe that Simon and James frequent; Wallace Shawn brings his usual sardonic style to his role as Simon's domineering and hard to please boss; James Fox appears briefly as the reclusive and mysterious Colonel, who manages the business, while Sally Hawkins and Paddy Considine contribute small cameos.
The film is set in an unidentified but dystopian period, although the colourless costumes and drab interiors suggest a 1960s Eastern bloc vibe. Visually the film is quite unsettling and claustrophobic, thanks to the bleak, colourless production design from David Crank that makes Simon's workplace look like it came from an earlier era. The sets combine the coldness of 1984 with the steampunk sensibility of Terry Gilliam's Brazil with its anachronistic analogue equipment and offices fitted with huge pipes, and the bravura visual style of a Michel Gondry. Erik Wilson's washed out, sepia toned cinematography and use of minimal lighting further adds to the moody noir-like atmosphere.
The Double has a clever and audacious premise at its core, a blackly comic sensibility, and a unique visual style that is unlike anything we've recently seen in the cinema, at least until Terry Gilliam's idiosyncratic bizarre head scratcher The Zero Theorem hits screens shortly. Ayoade explores themes of identity, individuality, alienation and fate, but his style is a little too cold and detached. Ayoade also wears his many influences on his sleeve. The Double may not win over everybody in the audience.
★★☆