Reviewed by GREG KING
Director: Jean-Jacques Annaud
Stars:Brad Pitt, David Thewlis, B D Wong, Mako, Danny Denzongpa, Jamyang Jamtsho Wangchik, Lhakpa Tsamchoe, Jetsun Pema, Victor Wong
Running Time:136 minutes.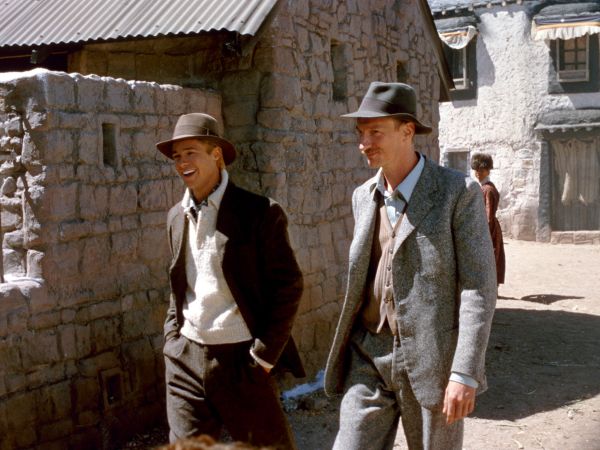 The film begins in 1939, when Austrian mountaineer Heinrich Harrer (Brad Pitt) set out on an expedition to climb Nanga Parbat, an inaccessible peak in the Himalayas. The expedition was a failure, and when war broke out, Harrer and his fellow climbers were imprisoned in a British POW camp in India. After many unsuccessful attempts, Harrer and his friend Peter Aufschnaiter (David Thewlis, from Naked, etc) managed to escape from the camp and made their way overland to Tibet, a peaceful and deeply religious country normally off limits to foreigners. Somehow, Harrer and Aufschnaiter found refuge in this isolated country at the roof of the world, where they remained for seven years as privileged guests.
Harrer became a tutor and advisor and friend to the curious young Dalai Lama and underwent a major philosophical rethink. His once arrogant, narcissistic and self-centred nature softened into someone more understanding and compassionate, with a deeper understanding of the world around him. Pitt overcomes any initial misgivings about being cast in such a complex role, and he delivers a credible and quite powerful performance as a man who undergoes an enormous transformation in arguably his most ambitious role to date. In many of his recent films Pitt has been trying to shake off his light weight image by choosing to work with directors and actors in material that challenges him and enables him to reinvent himself as a credible actor of some depth and emotional range.
Jamyang Jamtsho Wangchuk is appealing as the teenage Dalai Lama, full of curiosity about the world and eager to learn, and delivers a wonderfully natural performance. In an astute piece of casting, Jetsun Pema, the Dalai Lama's real-life sister, plays his mother here.
The authenticity, meticulous attention to detail, and a stunning visual style that are all hallmarks of Annaud's films, are present in Seven Years In Tibet. Annaud and his technical crew have superbly recreated Lhasa, the capital city, and the Dalai Lama's magnificent palace, and also the colourful costumes. They also bring an atmosphere of dignity and understanding to their recreation of the ostentatious religious ceremonies and rituals that are part of the daily life of Tibet. When political pressure from China prohibited Annaud from actually filming in Tibet or neighbouring areas of India, Chile and Argentina actually doubled for the Himalayas. Veteran cinematographer Robert Fraisse superbly captures the harsh beauty of the mountainous regions and gives the film a gorgeous surface quality.
The screenplay from Becky Johnson (The Prince Of Tides, etc) is even-handed in its treatment of Harrer, and, although it doesn't gloss over the fact that he was a member of the Nazi party, the fact that he was a member of the SS is not mentioned. In fact, the Chinese authorities still point to Harrer's Nazi connections whenever they want to discredit the peace loving Dalai Lama and his followers. However, the film creates a more sympathetic portrait of Harrer, who, it is suggested, merely followed the prevailing political mood of the time in order to be allowed the freedom to pursue his own passion for climbing mountains. Johnson even includes a romantic subplot in which both Harrer and Aufschnaiter vie for the affections of Pema (Lhakpa Tsamchoe), a beautiful tailor who designs new clothes for them during their stay.
The title is a little misleading, though, as the film actually spans more than a decade, covering the period from the 1940's up to the Chinese invasion of Tibet and the expulsion of the Dalai Lama, who now lives in permanent exile. Annaud treats his potentially controversial subject matter with due gravity, and it will be interesting to see how Martin Scorsese approaches similar material in his forthcoming biopic of the Dalai Lama.
★★★