by GREG KING
The Melbourne International Film Festival screens from July 28 through until August 14. There are some 300 features and documentaries screening, both local and international productions. The opening night film is The Death And Life Of Otto Bloom, starring Xavier Samuel, and the closing night film is David Mackenzie's contemporary western Hell Or High Water, starring Jeff Bridges, Chris Pine and Ben Foster.
Throughout the festival we will keep you up to date with reviews and interviews.
ALL REVIEWS BY GREG KING
LAST UPDATED AUGUST 6, 2016
KILLING GROUND.
A weekend camping trip to the beach turns into a battle for survival in this taut thriller from Australian writer/director Damien Power. Ian (Ian Meadow) and Samantha (Harriet Dyer) head off for a camping trip in the hopes that the time together away from the city will allow them time to heal their relationship. When they arrive at the remote camping ground they find another tent erected, but it looks abandoned. Then Ian and Sam stumble across an abandoned child and discover a murder scene. They become hunted by a pair of psychopathic hunters (Aaron Pedersen and Aaron Glenane). This is the debut feature film for Power, a short film maker whose Peekaboo screened at the St Kilda Film Festival a couple of years ago. The initial inspiration for the film came from a vision Power had of an orange tent in the middle of nowhere, but it has taken him a decade to flesh out the concept and bring it to the screen. Power cites films like Straw Dogs and Michael Haneke's Funny Games as influences on the film, although this is not quite as compelling nor as unsettling with its depiction of violence. The film has been nicely shot on location at Macquarie Fields, outside of Sydney, by Simon Chapman (The Devil's Candy, etc). Power brings some tension to the frantic chase through the bushland. Power uses a nonlinear narrative style that moves back and forth, slowly revealing the fate of the first family, which adds a frisson of tension to the material. Cast against type Pedersen is quite menacing here, while Glenane (Deadline Gallipoli, etc) is quite scary as Chook, the small town psychopath. ★★★
DIAMOND ISLAND.

This is the debut feature film for director Davy Chou, whose previous film was the documentary Golden Slumbers looking at the systematic destruction of the once thriving Cambodian film industry under the repressive Khmer Rouge regime. Diamond Island looks at the growing divide between the rich and the poor and life in the city and the country in contemporary Cambodia. Youths leave their home in the country and migrate to the city where they find menial work on construction sites, building the luxury apartment blocks for the city's elite. Our central character here is Bora (Sobon Nuon), who has left his family farm behind and moved to Phnom Penh. He reconnects with Soleil (Cheanick Niv), his estranged older brother who moved to the city five years earlier. He tells Bora about his mysterious American sponsor who looks after him and provides him with a good life. We never meet the sponsor and there is something vaguely unsettling about the nature of his relationship. We mainly see events through Bora's eyes. Chou's style here is low key and he maintains a deliberate and measured pace. The film lacks narrative momentum and not a lot happens on screen. And dialogue is kept to a minimum. But this stylish looking film is a social portrait and offers plenty of revealing and intimate insights into life in Cambodia today and gives us a glimpse into a society in transition. It has been handsomely shot by cinematographer Thomas Favel (who worked with Chou on his documentary). The cast of nonprofessionals, plucked from the streets of Cambodia's capital, give naturalistic performances. ★★☆
A HOLOGRAM FOR THE KING.

A Hologram For The King is one of Tom Hanks' less commercial films. Hanks plays Alan Clay, a failed businessman who is in the middle of a midlife crisis following an acrimonious divorce and the failure of his business. The down on his luck salesman is sent to Saudi Arabia representing a technology company to make a presentation to the King to secure a lucrative contract to provide virtual reality conferencing facilities to the kingdom. But as he discovers things happen at their own pace in Saudi Arabia and he finds himself stranded in the desert while his life begins to fall apart. The film opens with Hanks breaking the fourth wall and quickly giving us Clay's backstory via the opening lines of the Talking Heads hit Once In A Lifetime. There are lots of brief flashbacks to his less than happy life and personal problems which seem to be symbolised by the ugly lump growing on his back. This is a journey of discovery for Clay who gains some insights into Arab culture through his driver, the gregarious Yousef (Alexander Black, providing plenty of comic relief). There is also a romantic subplot as Clay begins a relationship with a female doctor (Sarita Choudhury).
A Hologram For The King is essentially another fish out of water tale exploring themes of the clash of cultures. There are plenty of awkward moments for Clay as he tries to deal tactfully with the Saudis. The film reunites Hanks with his Cloud Atlas director Tom Tykwer, and while this is less impenetrable than that massively overblown sci-fi fantasy, A Hologram For The King will struggle to connect with a mainstream audience. Tykwer is best known for the energetic and kinetically paced Run Lola Run; the pacing here is much more leisurely and his direction is laid back. Hanks' hassled everyman quality lends strength and credibility to his work here. The film is based on the novel written by Dave Eggers, and Hanks was a big fan of the book which explains his involvement in this endeavour which is somewhat unusual territory  for the actor. Tom Skerritt is wasted in a small role as Clay's father, and Ben Whishaw (Skyfall, Spectre, etc) appears only as a hologram. There are some striking visuals though including a science park still under construction in the middle of the desert and the impressive architecture of Saudi Arabia. ★★☆
RADIO DREAMS.
Waiting for Metallica? The sophomore feature film from Iranian director Babak Jalali (Isolation), Radio Dreams is a droll comedy set in an Iranian radio station in San Francisco that broadcasts to their small specialist audience. Today though is supposed to be special as the station is bringing together Metallica and Kabul Dreams, the first ever rock band from Afghanistan, for a special program. But while the station management wait for the heavy metal band to turn up the brilliant but arrogant and pretentious writer Mister Royani (played by real life musician Mohsen Namjoo, often referred to as the Bob Dylan of Iran), a writer living in exile in America, broadcasts a number of special fill in programs, including poetry. He is responsible for much of the cheap programs going to air, but he is unwilling to compromise in his beliefs. He airs personal stories looking at the day in the life of Iranian immigrants working in the city. The station manager is indifferent to the programs going to air, while his driven and overly ambitious daughter (Boshra Dastournezhad) seems to be running the place and keeping everything together. Radio Dreams is a modest little film that offers a reflection on displacement and alienation, and the cultural clash faced by Iranians abroad, themes common to Jalali's work. The film has minimalist production values and aesthetic as the action rarely moves beyond the confines of the radio station. Cinematographer Noaz Deshe brings a documentary-like verite to the film. The film features a wonderful line of droll and deadpan humour in the style of Jalali's idol Aki Kaurismaki. But the big question that hangs over proceedings is whether Metallica will turn up to jam with Kabul Dream, who play themselves here. ★★☆
DOWN UNDER.

This is a black comedy set in the aftermath of the 2005 Cronulla Riots, and is very topical and timely given the recent demonstrations and protests about Muslim immigration here in Australia. But often humour is the best way of tackling controversial and uncomfortable subject matter. One of the inspirations for the style of Down Under was Chris Morris's Four Lions, a black comedy about four would be suicide bombers in London. Down Under is the first feature film from actor turned writer/director Abe Forsythe since 2003's Ned, and it shares a few thematic connections as it looks at questions of Australian identity. Forsythe's film takes place on the day after the riots that shocked a nation. Two diverse groups of hotheads fired up by a desire to wreak some retribution for the riots, head out looking for trouble. One group is led by the racist and heavily tattooed bogan Jason (Damon Herriman), while the other group is led by the hothead Nick (Rahel Romahn, from The Principal, etc). Nick has managed to rope in the quiet, studious Hassin (Lincoln Younes, from tv series Home And Away, etc), who is reluctant to participate.
Down Under is likely to polarise audiences as it addresses issues such as race, Australian stereotypes and the problems of our multicultural country. Younes delivers a more sensitive performance that contrasts with the bombastic and over the top performances of the bulk of the cast. There is also a nice and subtle performance from Chris Bunton, who plays Jason's out of town cousin Evan, who, despite his Down Syndrome, seems to be the smartest one in the bunch. David Field is cast against type in a small role as a vicious homosexual methhead and drug dealer. Comedy is an effective way of tackling controversial subject matter and so it is with Down Under. Forsythe shows a good eye for the humour of the situation, and there some great moments of physical and visual humour here. ★★☆
I AM NOT A SERIAL KILLER.
This gripping low budget drama mixes coming of age themes with outright horror tropes. John Wayne Cleaver (played by Max Records, from Spike Jonze's Where The Wild Things Are) is a troubled adolescent, a misfit with a fascination with death and serial killers. His work at the family funeral parlour feeds this fascination. He has been diagnosed as a sociopath, but he is able to keep his dark homicidal urges at bay through regular therapy sessions. That is until a vicious serial killer begins harvesting the organs of victims. John discovers that his elderly cantankerous neighbour Mr Crowley (Back To The Future's Christopher Lloyd at his creepiest) is the killer, but in trying to catch him he puts himself and his family and few friends firmly in the crosshairs.
The film is based on Dan Wells' best-selling YA novel from 2009 and has an unusually darker sensibility for a piece of teen fiction. The director is Billy O'Brien (Isolation, etc), who has a strong visual style and creates an unsettling atmosphere and slowly mounting air of dread. The body count rises and the film grows darker in tone. Like The Town That Dreaded Sundown and David Lynch's bizarre Blue Velvet, this creepy thriller strips away the veneer of small town America and finds something nasty and sinister just below the surface. Robbie Ryan has shot in 16mm, which adds to the gritty visual style, and his cold cinematography captures the subtle menace of this small town and its harsh wintry vistas. The film boasts some solid performances. Records is well cast here as the obsessed teen, while Lloyd brings subtle nuances to his performance. Perfect fodder for late night screenings and could possibly become something of a cult film. ★★★☆
JANIS: LITLE GIRL BLUE.
On stage, Janis Joplin oozed sexuality, but her passion and raw and uninhibited vocal style saw her described as the most important female singer in America since Aretha Franklin. She was regarded as the premier blues vocalist of the 60s. But as her success and fame rose she became addicted to dugs and alcohol, and tragically she died at the young age of 27 from an accidental overdose. This documentary from veteran filmmaker Amy Berg (Deliver Us From Evil, etc) gives us a comprehensive and detailed look at Joplin's life and music and her self-destructive personality. Born in the small town of Port Arthur in Texas she only started singing at the age of 17, but her talent took her to San Francisco which was at the height of the growing counter culture movement of the 60s. She rose to fame as the lead singer for the band Big Brother And The Holding Company.
Janis: Little Girl Blue is a fairly conventional documentary that unfolds with lots of talking heads interviews and lots of archival footage. There are interviews with friends and family, as well as many musicians who accompanied her on her journey that give us some insight into her complex personality. But we also get access to her private thoughts via a series of letters she wrote to friends and family, given voice here by singer Chan Marshall (aka Cat Power), which adds a poignant quality to the material. Her music plays an integral part of this doco, and there is lots of footage that captures Joplin at her best on stage, performing at seminal concerts like Monterey, Montreaux Pop Festival, and Woodstock. But we also get to hear from Joplin herself, as Berg incorporates archival footage of her many television appearances and interviews, and they reveal her turbulent life off stage, her insecurities and loneliness. Far from a hagiography, this is an interesting doco about a rock icon, and will appeal to fans of the singer. But it doesn't have the immediacy of the more recent Amy, about the tragic short life of singer Amy Winehouse, another self destructive singer who died tragically at the age of 27. ★★★
MAHANA.
Twenty years ago Lee Tamahori gave us one of the best films to come out of New Zealand with Once Were Warriors, an exploration of masculinity, violence, family and Maori pride. After flirting with big budget Hollywood action films like Along Came A Spider and the Bond adventure Die Another Day, etc, Tamahori returns home for this powerful, uplifting and moving drama set in rural New Zealand in the early 60s that shares a number of similar themes, although it is nowhere near as gritty or disturbing. Based on a novel written by Witi Ihimaera (Whale Rider), this drama centres around the Mahanas, a sheep farming family ruled over by their overbearing and brutal grandfather (Temuera Morrison). But Mahana is also a wonderful coming of age story as fourteen year old Simeon (newcomer Akuhata Keefe) begins to stand up to the grandfather and question some of his beliefs. The consequences of his defiance though lead to rift in the family but ultimately to a reconciliation and the revelation of some long hidden secrets about the truth behind the family's long running bitter feud with their neighbours, the Poata family. John Collee's script does contain the occasional cliche, but this is a superb and entertaining drama. The film looks gorgeous thanks to the widescreen cinematography of Ginny Loane (Shopping, etc) who captures stunning vistas of the windswept countryside and hilly terrain. Reunited with Tamahori, Morrison, best known for playing Jake the Muss in Once Were Warriors, has a fierce, commanding and intimidating screen presence that is put to good use here as the strict patriarch. In his first film role, newcomer Keefe is also a revelation with a strong and intelligent performance in the pivotal role of Simeon, who shows strength and the qualities of manhood demanded by his grandfather. Mahana (aka The Patriarch in some territories) is another winner from New Zealand, whose film industry continues to punch above its weight. ★★★★
CLASH.
This powerful Egyptian drama is set during the so-called Arab Spring, a time of revolution in the days immediately following the overthrow of President Morsi, and the civil unrest that ensued as police clashed with demonstrators. The police indiscriminately arrested many of the demonstrators and threw them in the back of a police prison wagon. Thus there was a mix of detainees from different religious and political backgrounds – Muslims, Jews, Christians, firebrand clerics, the elderly and the young, women and children. Initially passions and tempers flared but this disparate group soon learned that they needed to bury their differences and animosities and cooperate if they were to survive. What emerges is a simple message of tolerance and understanding in this volatile situation. What is amazing though is that director Mohamed Diab (Cairo 678, etc) has set the film entirely within the confines of the prison wagon, making for an intense and claustrophobic experience. Diab uses the microcosm of the police van to examine the political, racial and religious differences that inflame this volatile region as well as looking at the different factions of Egyptian society. Like the captives, the audience is able to hear what is happening outside – the gunshots, the noisy protests, etc – and all we can see of outside events is what they can see through the windows and bars of the van, which adds to the dramatic power of the film. Ahmed Gabr's use of handheld cameras is particularly effective in this context. ★★★★
PARIS 05:59.
Bold and confronting, Paris 05:59 is not a film for everyone's tastes. Theo and Hugo meet at the red-lit basement of a Paris gay club and have sex. A connection has developed between the pair, and they leave and wander the streets of Paris in the early hours of the morning. Hugo (played by Francois Nambat, from The Missionaries, etc) is HIV positive, and Theo (Geoffrey Couet, in his feature film debut) admits that his condom broke. There is some frank discussion of the likely consequences and a quick visit to the emergency room of the nearby hospital for some medical advice before they continue their nocturnal journey through the streets of Paris. They talk about their lives, their fears, living with HIV, and about the prospect of a relationship.
Take out the graphic, explicit twenty minute orgy/sex scene (with apparently genuine on-screen sex) that opens the dialogue-driven film and this could well be a Gallic gay variation of Richard Linklater's Before trilogy. It also has thematic comparisons with Andrew Haigh's Weekend. The film unfolds almost in real time, and there is a digital clock overlaid on some scenes as a reminder of the time passing. Paris 05:59 (aka Theo And Hugo) is essentially a two-hander as we follow Theo and Hugo, although there are a few other peripheral characters they interact with during their meandering journey. Couet and Nambat make for a charismatic and handsome couple, and the time spent in their company is pleasant enough. The dialogue is casual and natural, and often banal, giving it a sense of veracity. Directors and regular collaborators Olivier Du Castel (a former sound editor) Jacques Martineau (the gay themed romance The Adventures Of Felix, etc) and cinematographer Manuel Marmier make good use of the Paris streetscapes. ★★★☆
EVOLUTION.
Coming a decade after her debut film Innocence, Evolution is the second feature from Lucille Hadzihalilovic, and it is a beguiling and enigmatic mix of unnerving low key sci-fi and Cronenberg-like body horror. The film is set on a strangely desolate rocky volcanic island inhabited by a group of 10 year old boys and their mothers. There are no men to be seen. But there is also something drearily similar about the way the boys are all dressed, and the mothers wear similar looking dresses and have a hard expression. It is immediately clear that there is something a little sinister about this island. The boys are regularly taken to a clinic with its dull institutional green walls, where they are subjected to bizarre medical experiments. Our central character here is Nicholas (Max Brebant in his film debut), a curious youngster who begins to question his strange environment. But Stella (Roxane Duran), a nurse at the clinic, is sympathetic and takes a liking to Nicholas. Hadzihalilovic creates an unsettling and vaguely disturbing atmosphere here and establishes an air of slowly mounting dread. Cinematographer Manuel Dacosse (The ABCs Of Death, etc) has created some beautiful and eerie images, and there is some gorgeous undersea cinematography. The sparse production design adds to the menacing atmosphere. Like the recent Under The Skin though Evolution is an enigmatic and dark movie that is not instantly accessible for a mainstream audience, but it will intrigue some viewers attuned to Hadzihalilovic's off beat sensibility. ★★☆
NEWTOWN.
Charlton Heston, the Oscar winning actor and one time President of the powerful lobby group the National Rife Association, once declared: "From my cold dead hands." And while America awaits sensible legislation and gun control laws, more innocent victims are lost in senseless massacres from people who probably should not have had access to a lethal weapon in the first place. In his gun control documentary Bowling For Columbine Michael Moore used humour as a weapon and as a powerful tool in his cry for tighter laws on gun ownership. There is precious little humour to be found in this raw and emotional documentary from director Kim A Snyder that looks at the aftermath of the 2012 massacre at Sandy Hook Elementary School in  a perfect and safe little town in rural Connecticut. On the morning of December 14, gunman Adam Lanza shot his own mother and then drove to the nearby school where he opened fire, killing 20 young children and six adults before turning the gun on himself. Snyder comes into a community still raw with emotion, grief and a palpable sense of anger at yet another senseless slaughter of the innocent.
Snyder (who worked as an assistant producer with Jodie Foster on the comedy Home For The Holidays) incorporates lots of newsreel footage here along with some intimate interviews with first responders, the local priest, and William Begg, the ER doctor who talks about the traumatic impact of the bullets on the young bodies. Snyder also connects with three families affected by the tragedy – the Bardens, the Hockleys and the Wheelers – who all lost a child in the massacre, and they talk openly and honestly about how they are trying to move on from the loss. Snyder obviously has an agenda here as she tries to put the focus firmly on the emotional and controversial issue of gun control and the inadequacy of legislators to address the problem. There are some gut wrenching moments throughout, but she handles this material with great sensitivity and understanding. This is a study of a community torn apart by tragedy and attempting to rebuild their lives and find some positives. If this incident doesn't change America's attitude towards tighter gun laws then possibly nothing ever will. And despite President Obama's attempts to change the laws yet again the US Senate backed away from tighter gun laws. ★★★★
THE DEVIL'S CANDY.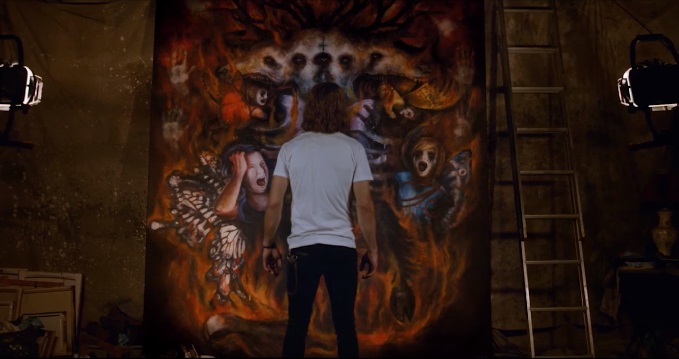 A variation on the home invasion thriller, The Devil's Candy is the sophomore feature from Australian director Sean Byrne (2010's The Loved Ones). A film about parenthood, murder, madness, possession and heavy metal music, it is best described as The Amityville Horror meets Metallica. Jesse Hellman (Ethan Embry) is an artist who moves his family into a large farmhouse in rural Texas where he has more freedom to continue his work. And the house comes with a dark history, as the psychotic Ray Smilie (Pruitt Taylor Vince, from Heavy, etc) killed his parents. Both deaths were ruled accidental and the house was put on the market. But soon after, Ray knocks at the door, and wants back in his house. Ray becomes obsessed with Jesse's goth metalhead daughter Zooey (Kiara Glasco, from David Cronenberg's Maps To The Stars, etc). Meanwhile Jesse is haunted by the same bizarre voices that drove Ray to kill his parents and he becomes obsessed with a somewhat dark themed painting.
Ray is a nasty piece of work, and a killer of children. Vince is perfectly cast as Ray, with his lumbering gait, his untidy red jumpsuit, his empty gaze and intimidating manner he brings this hulking man child to life. Embry is largely cast against type here, and with his beard and long hair vaguely resembles a Jesus-like figure, which complements the more religious undertones of the film. Glasco is also very good as the Zooey and brings a feisty quality to her performance. As he demonstrated with his first film, Byrne is adept at gradually building up the suspense and uneasy atmosphere before unleashing a rather violent climax. He suffuses the home invasion tropes with a touch of the supernatural. However, the horror here is a bit more restrained and less graphic than the torture porn of The Loved Ones. The discordant aural soundtrack provided by Sunn O)))) adds to the gradual air of uneasiness. Hopefully it's not another six years before Byrne makes another film.  ★★★☆
TICKLED.

New Zealand journalist David Farrier (tv series Short Poppies, etc) has made a career out of looking at the weird side of life. But even he was unprepared for the fallout after stumbling upon a website about "competitive  endurance tickling" in which young men were paid to be tied up and tickled, complete with some videos. Although the on-line videos were pretty harmless, they piqued his curiosity and Farrier decided to find out more. But when he contacted Jane O'Brien Media to try an arrange an interview he was harassed and threatened with lawsuits from a high powered US firm. Their secretive and aggressive manner intrigued Farrier even further and he tried to probe beneath the surface. He and his collaborator, writer/filmmaker and computer expert Dylan Reeve, discovered a vaguely sinister side to this tickling fetish as they travelled to Los Angeles and New York. Farrier talks to a couple of former tickle participants who talk about being blackmailed and threatened.  What began as a light hearted investigation into something that initially seemed vaguely homoerotic but innocuous turned into a thriller as Farrier and Reeve tried to probe a web of corporate paperwork to find out the identity of the mysterious figures behind Jane O'Brien Media and this tickling empire. By turns amusing and gripping, Tickled gives us a look at the darker side of the internet and a vaguely unsettling subculture, and explores themes of power, control, harassment, fetishism, corruption, and criminal activity. This is the first feature length documentary from Farrier, and he has an amiable screen presence, but he also demonstrates a dogged sense of purpose as he refuses to back down from threats and intimidation as he gets closer to learning the identity of the person behind this unusual enterprise. A strange and decidedly weird little documentary that is unexpectedly compelling and entertaining. ★★★
EMO THE MUSICAL.
A "science-educated, sex addicted atheist", Ethan (Benson Jack Anthony, who plays Erik Thompson's son in hit tv series 800 Words, etc) has been expelled from his previous school after a failed suicide attempt. When he arrives at his new school he initially has trouble fitting in and being accepted because of his emo image. But when he joins Your Worst Enemy, an emo band at school, things start to look up. Bradley (Rahart Adams) wants to win an upcoming school bands competition so they can win a record contract and he can meet his idol, faded rocker Doug Skeleton (played by tv host Dylan Lewis). He also begins to have strong feelings for Trinity (Jordan Hare), who sings in a rival Christian band. Although the two are opposites personality wise and in their beliefs the sparks fly between them. There are lots of complications along the way.
Emo The Musical comes across like High School Musical or Glee, albeit with a darker sensibility. This locally made coming of age tale explores themes of adolescent angst, the need to fit in, sexual identity, the pangs of first love, music, suicide, religion, and mental health issues. Emo The Musical is based on first time feature film director Neil Triffett's own 15-minute short film of the same name from a couple of years ago that did the film festival circuit. Triffett has expanded the basic story here, fleshing out several of the characters and giving more weight to the Romeo and Juliet like romance between Ethan and Trinity. Anthony has a great screen presence here and he delivers a solid performance as the troubled Ethan who eventually discovers who he is and who he wants to be. Some of the nonsense dealing with the politics of the school, which only seems to have the one teacher (in the form of Bridie Clark) doesn't quite work. A bit of fun, but not as engaging or as strong as the superb Sing Street. ★★★
THE FAMILY.
Rosie Jones previously gave us the documentary The Triangle Wars, about a people powered community protest over a proposed development in the suburb of St Kilda. Her latest film is a vastly different offering. It explores the history of the strange abusive sect established by former yoga teacher Anna Hamilton-Byrne in Ferny Creek in the 1960s, and which flourished at a property in picturesque Lake Eildon in the late 1960s. In an investigative report, 60 Minutes described Hamilton-Byrne as "the embodiment of evil." Hamilton-Byrne established the sect along with a handful of similarly minded acolytes, and managed to recruit some prominent and powerful people. There were lots of children on the property – some born to sect members, but others were adopted by illegal methods. Hamilton-Byrne used a variety of methods to control the children, including forcing them to wear similar clothes and dye their hair blonde, so that they looked like "the children of the damned." Hamilton-Byrne also used starvation, beatings and administered LSD. Little was known about the so-called family until a former member went to the police in 1987 with a tale of physical and mental abuse. A police raid on the property managed to liberate many of the children.
In this comprehensive documentary Jones gives us some chilling insights into the sect and the personality of the messianic Hamilton-Byrne, who remained unrepentant and claimed that she had done no wrong. Jones has interviewed several former members of the sect, who still bear the psychological scars of their experiences. Some of their stories are chilling, but others, like that of Roland, one of the children of the sect, is heartbreaking, although it has a sort of more positive outcome. The Family explores the seductive power of cults and of charismatic leaders who feed on the vulnerability of people and are able to persuade them to take that leap of faith. The structure though is fairly straight forward; working with editor Jane Usher, Jones has interspersed lots of talking head interviews with some atmospheric location footage, and some reenactments that are among the film's weakest moments. There is also an extended interview with Lex de Man, the detective obsessed with the case but who was also frustrated by what he saw as the fact that justice was not done. Jones has included some rarely seen archival footage. Not quite as hard hitting as it could have been as it only hints at the suggestion of sexual abuse as part of the cult's operations. ★★★
SUNSET SONG.
The latest film from revered British director Terence Davies (Distant Voices, Still Lives, etc) is an epic adaptation of Lewis Grassic Gilbert's beloved novel. Sunset Song tells the powerful and moving coming of age story of Chris Guthrie (played here by model/singer Agyness Deyn) in the early part of the 20th century. Raised on a farm in the Scottish hills, Chris lived in a house with her mother, older brother Will (Jack Greenlees), and her tyrannical, emotionally abusive and selfish father (Peter Mullan). We follow her journey from innocence to heartbreak as World War One intrudes and brings about drastic changes in the role of women as well as destroying the hopes of the future generation. Davies brings a harsh and gritty realism to the material, which shares some of his familiar themes and motifs – repression, longing, and a woman caught up in rapidly changing times. The film also has a surprisingly strong feminist slant to it. The series of tragedies that befall this hard working farming family will remind many of the Oscar winning classic How Green Was My Valley.
Newcomer Deyn has a natural screen presence, and gives a soulful performance as the strong willed heroine, giving her a slightly contemporary feel. The role of the brutal patriarch is familiar territory for Mullan, but with an excellent and powerful performance he manages to bring some subtle nuances to the character and make him a more sympathetic and three dimensional character. The film has been gorgeously shot by cinematographer Michael McDonough, who brings an almost poetic sensibility to the material. McDonough uses the widescreen effectively for some sweeping exterior shots that will remind audiences of Terrence Malick's visually stunning Days Of Heaven, while the interiors have been shot using natural lighting that enhances their claustrophobic and oppressive nature. And Davies is a classical filmmaker who uses long steady takes rather than the kinetic style of fast editing and hand held cameras. It would be a hard heart indeed that fails to be moved by the film's final few minutes that delivers a potent anti-war message – haunting music plays as the camera travels through grey, muddy battlefields, and then a lone piper plays. ★★★☆