Reviewed by GREG KING
Director: Tim Hill
Stars: Alex D Linz, Jamie Kennedy, Larry Miller, Josh Peck, Zena Grey, Justin Berfield.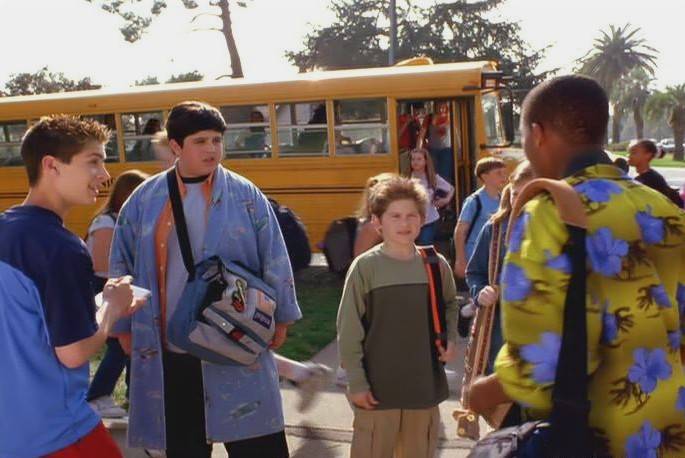 Max Keeble's Big Move is a lightweight, moderately amusing Home Alone clone from the Disney studios that holds some appeal for easily pleased younger audiences.
Twelve year old Max Keeble (Alex D Linz, from Home Alone 3, etc) finds that his first week at junior high is miserable, due to the unwanted attention of various bullies. He also finds little sympathy or support from Jindraike (Larry Miller), the ambitious and corrupt principal anxious to curry favour and gain a promotion by building a football stadium on land occupied by an animal shelter. There's also the unwanted presence of the Ice Cream Man (Jamie Kennedy, from Scream, etc), who harbours a grudge against Max because his mother dobbed him in to the health authorities over some contaminated food.
But when Max learns that his family will be moving to Chicago he decides to turn the tables on his tormentors through a series of elaborately designed acts of revenge. Having carried out his scheme Max then learns that the proposed move is off, and he has a lot of damage to undo. Max has also left his two best friends (Josh Peck and Zena Grey) to carry the brunt of the retaliation.
Although made by Disney, the usual big messages and family values are thankfully absent here. And the film's one major theme, that of growing up and facing up to the consequences of your actions, is almost buried beneath some cartoonish violence and slapstick humour.
Linz is carving out a niche for himself in this kind of pre-teen comedy. The largely unknown young cast deliver enthusiastic performances, while Miller chews up the scenery in his familiar shtick as the unctuous, malevolent authority figure.
★★☆