Reviewed by GREG KING
Director: Rebecca Miller
Stars: Greta Gerwig, Ethan Hawke, Julianne Moore, Travis Fimmel, Bill Hader, Maya Rudolph, Wallace Shawn.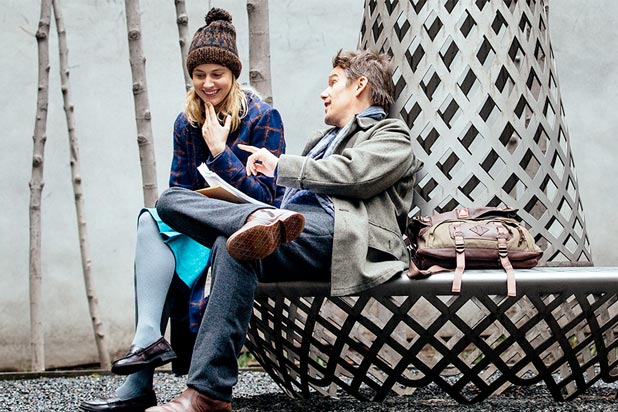 I find Greta Gerwig an annoying screen presence, especially given her penchant for playing flighty, self-centred and kooky characters in those quirky New York based hipster romantic comedies from the likes of Noah Baumbach with whom she has regularly collaborated (Frances Ha, etc). Those annoying and irritating characteristics that were especially grating in the recent Mistress America are to the fore again in her latest romcom Maggie's Plan.
Gerwig plays Maggie, who works as a careers advisor to arts students at New York's The New College. A 29 year old who has never been in a relationship that has lasted more than six months, she is feeling that she wants a child to complete her life. But she doesn't want to go the old fashioned route preferring artificial insemination. She has already chosen her sperm donor – Guy, an eccentric pickle entrepreneur (played by Travis Fimmel).
Then she meets John Harding (Ethan Hawke), a professor of fictocritical anthropology, who is also an aspiring author. He is trapped in a loveless marriage to the domineering Georgette (Julianne Moore), a tenured professor at Columbia. Apparently Georgette is also a successful author, but John says that she is destroying his life. There are glimpses of John's home life, where meal times are fairly dysfunctional as their two children spend most of their time texting and using social media.
John asks Maggie if she will read the first chapter of his novel and give him some critical feedback. Over the course of a couple of meetings to discuss the novel the two develop a strong rapport, and John falls in love with the younger Maggie. She seduces him away from Georgette, and the couple settle into a relationship.
Cut to three years later and Maggie and John are married with a child, but finding the demands of a long term relationship something of a struggle.  Eventually Maggie tires of John, and manipulates a scheme to reunite him with his former wife.
Gerwig plays a familiar role as the unlikeable and manipulative character who wants to be in control of her own body, her choices and her destiny, and while a strong character she is hard to warm to. This is a role that is similar to those character she has played in her collaborations with Baumbach and she probably needs to stretch herself a little and find something a bit more challenging. Maya Rudolph and Bill Hader bring some colour and texture to the material with their roles as Felicia and Tony, Maggie's married with children friends, who offer her advice, which is mostly ignored. Hawke brings a suitably downbeat quality to his performance.
Even more irritating than Gerwig though was Moore's accent here. Although a great actress, Moore is miscast here as the brittle but brilliant and self-obsessed Georgette, who hails from Denmark, a role that maybe should have gone to a Scandinavian actress like Alicia Vikander or Noomi Rapace, etc, to be more authentic. The character of Guy is a markedly different role for Fimmel, the former underwear model who is best known for his more physical roles in the tv series Vikings and the recent Warcraft.
Maggie's Plan is another of those quirky romcoms that feature lots of articulate characters spouting pretentious dialogue. Some of the earthy interplay between the characters is interesting though but it is not enough to totally save the film. The film has been written and directed by Rebecca Miller, the daughter of noted playwright Arthur Miller. Her previous films have been adapted from her own novels, but this time she has co-written the script with first time writer Karen Rinaldi, her publisher, and it is based on an as yet unpublished novel. Miller brings a droll and dry sense of humour to this bittersweet and unorthodox romantic triangle. The characters display enough neuroses that wouldn't go astray in a Woody Allen film.
But the film is also a little episodic in structure. Another problem with the film is that there is a noticeable lack of chemistry between the main players.  However, I did like the subtlety of the ending, and I liked the use of Bruce Springsteen's 1984 hit Dancing In The Dark as a way of illustrating perfectly the difference in attitudes between Maggie and Georgette.
★★☆