Reviewed by GREG KING
Director: Alain Corneau
Stars: Ludvine Seigner, Kristin Scott Thomas, Guillaume Marquet, Patrick Mille.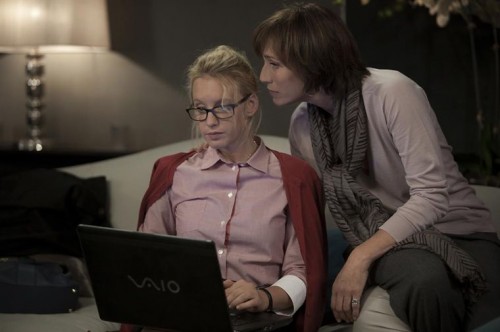 Talk about your horrible bosses! Love Crime is a solid but low key psychological drama about office politics, backstabbing colleagues, power struggles, ambition, sexual politics, vengeance, and getting away with murder. Co-written with Nathalie Carter, the film offers a darker twist on the sort of office rivalry that drove films like Mike Nichols' black comedy Working Girl.
Ludivine Seigner (Swimming Pool, etc) plays the hard working Isabelle who is the protégé and loyal colleague to Christine (Kristin Scott Thomas) in a multinational firm based in Paris. While Isabelle is bright and comes up with many great ideas to improve the company's performance, Christine adapts the ideas and passes them off as her own. She is ambitious and on the fast track to promotion to a coveted key position in the company's New York office.
Christine rules the office through manipulation, blackmail and humiliation. But after Isabelle impresses her visiting US bosses with a presentation, the gloves come off. After enduring one too many of Christine's public humiliations, Isabelle plots an elaborate revenge on her scheming boss that involves literally getting away with murder.
The film soon becomes a tight thriller with a couple of neat twists that will keep audiences off balance. Most of Isabelle's elaborate scheme unfolds in a series of lengthy black and white flashbacks. Unfortunately there are a few holes in the sinuous plot.
Seigner and Thomas face off several times throughout the film, and their scenes together share a subtle menace and tension. Seigner brings a seemingly naïve quality and deceptive vulnerability to her role, but she soon proves to be just as devious and calculating as her mentor. Thomas makes the most of her role and brings a chilling, aloof and icy presence to her performance as the manipulative, predatory and ruthless Christine.
Guillaume Marquet is also good in a supporting role as Daniel, Isabelle's loyal, supportive secretary who encourages her to take credit for her ideas and to stand up to Christine. Patrick Mille is Phillipe, who becomes a hapless pawn in the elaborate cat-and-mouse game between Christine and Isabelle.
Love Crime is the final film from veteran French director the late Alain Corneau (Fear And Trembling, etc), who died just a week after the film's French premiere. Rumour has it that Brian De Palma is working on an English-language remake.
★★★