Reviewed by GREG KING
Director: Richard LaGravanese
Stars: Holly Hunter, Danny De Vito, Queen Latifah, Martin Donovan, Richard Schiff, Elias Koteas, Mariangela Pino, Suzanne Shepherd, Clark Anderson.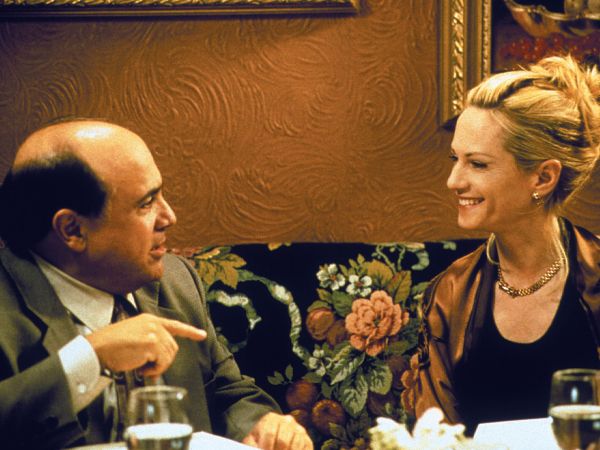 Writer Richard LaGravenese (The Bridges Of Madison County, The Fisher King, etc) makes his directorial debut with this edgy romantic comedy about a pair of middle aged divorcees looking to put a spark of romance back into their lives. He understands the demands of his perceptive and intelligent script, and probes the quiet desperation of his central characters with a painful honesty.
Judith Nelson (a strikingly blonde Holly Hunter) has recently divorced her womanising husband (Martin Donovan), and attempts to start her life all over again. Pat Francato (Danny De Vito) is also recently separated. He is coping with a terminally ill daughter while also trying to pay off his mounting gambling debts. He works as night watchman in Judith's apartment block. The film explores the unexpected relationship that develops between these two lonely people from vastly different backgrounds, and the way in which it changes their lives. Unfortunately, Judith does not share Pat's depth of feelings, although his friendship is quite important to her sense of stability.
Hunter has a penchant for off beat characters, and she is very good in this emotionally demanding role. She effectively conveys Judith's loneliness and frustrated passion, and hints at the thinly veiled madness that drives her. Cast largely against type, De Vito is quite touching and unusually vulnerable in a role that allows him few opportunities to show off his acerbic and sarcastic wit. Rap singer Queen Latifah (Set It Off, etc) provides solid support as Liz Bailey, a blues singer who befriends Judith.
Living Out Loud heralds an impressive debut from LaGravenese, whose direction is restrained and economical. The film is suffused with a palpable air of loneliness and sadness, but there is also a strong undercurrent of warmth and humour. Living Out Loud is a film of huge emotions, honesty and small pleasures.
Despite a pair of solid central performances and some classy production values, it will struggle to find an appreciative audience. In a crowded cinema marketplace traditionally dominated by movies aimed at 18-25 year olds there doesn't seem to be much demand for romantic comedies about two lonely, very ordinary, middle aged New Yorkers looking for love.
★★