Reviewed by GREG KING
Director: Neil Burger
Stars: Bradley Cooper, Robert De Niro, Abbie Cornish, Andrew Howard.
Limitless is a twisted morality tale about greed, hubris and wish fulfilment.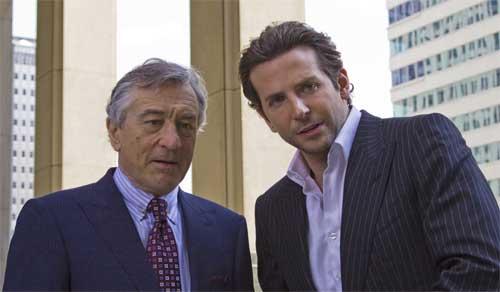 Eddie Morra (Bradley Cooper, from The Hangover, etc) is an aspiring writer suffering from writer's block. But when his drug dealing ex-brother-in-law introduces him to a new wonder drug known as NZT his life undergoes a drastic change. NZT allows its user to access that 90% of their brain not normally used and turns them into a super intelligent being.
In four days, Eddie finishes the novel. He can also speak several languages fluently. His former girl friend Lindy (Abbie Cornish), who had previously ditched him believing him to be a loser, comes back into his life. And he becomes a quick study of the stock market. In just a few days he has amassed a small fortune and attracted the attention of ruthless tycoon Carl Van Loon (Robert de Niro), the richest man in America who wants his help in engineering the biggest corporate takeover in history.
But Eddie learns that the drug has side effects that include paranoia and black outs. Eddie discovers that he is the chief suspect in the murder of a beautiful model, and he has also fallen foul of Gennady (Andrew Howard), a vicious Russian mobster and loan shark. When the film opens we see Eddie perched on a balcony high above the streets of New York, contemplating suicide while gangsters pound on his door. In an extended flashback we learn how he came to be here, and how he came to make a Faustian pact from which he finds it hard to extricate himself.
Limitless has an intriguing premise, but it soon degenerates into a rather formulaic chase film. There are a number of holes in the plot and some inconsistencies that are glossed over. Its final payoff is rather disappointing, and the final twist in the tale seems like a cheap afterthought. Alan Glynn's novel The Dark Fields has been adapted by Leslie Dixon, (Outrageous Fortune, Mrs Doubtfire, Hairspray, etc), better known for light comedy films, although she has made a couple of forays into thriller territory with the remake of The Thomas Crown Affair, etc.
Neil Burger (The Illusionist, etc), directs the material with visual flair, and he uses some dazzling visual effects to illustrate Eddie's new found understanding and abilities – hyper realistic visuals, multiple Eddies and saturated colours are all effective. Cinematographer Jo Williams uses clever visual embellishments to convey Eddie's growing sense of paranoia. The camera whizzes through Manhattan's streets at dizzying speed, and some kinetic editing captures the frenetic pace of Eddie's jet setting life.
The role of Eddie was originally ear marked for Shia La Boeuf, but Cooper has a likeable presence and charisma and the screen smarts to make his character and his transformation credible. His voice over narration is effective here because of its dry wit, and is largely unobtrusive. De Niro lends his formidable presence to his few scenes and is quietly menacing. Cornish is given little to do as the romantic interest, apart from one scene where she eludes a hitman on an ice rink in Central Park.
Limitless had plenty of early promise, but ends up another rather mediocre and vaguely unsatisfactory thriller. If only the filmmakers themselves had had access to some NZT then this may have been a far smarter and taut thriller.
★★☆