Reviewed by GREG KING
Director: Stephen Kay
Stars: Sylvester Stallone, Miranda Richardson, Michael Caine, Rachael Leigh Cook, Alan Cumming, Mickey Rourke, John C McGinley, Rhona Mitre.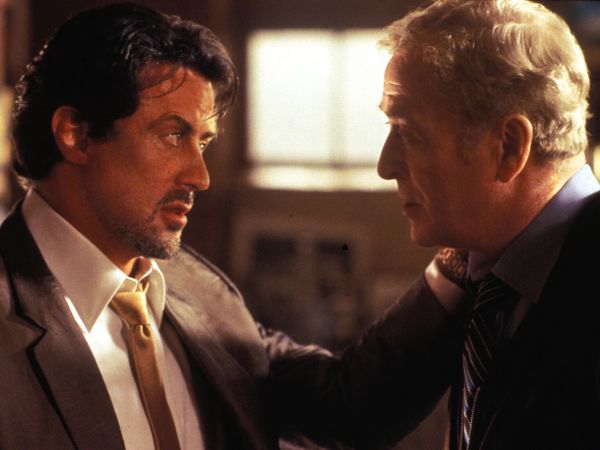 With superb films like Copland and Cliffhanger but distant memories, fading action hero Sylvester Stallone badly needs a hit movie to restore some of his former glory as a box office champion. Unfortunately, this rather lame remake of the classic 1971 British thriller Get Carter is unlikely to reverse his fortunes. The plot details remain essentially the same here, although the film has been updated and rejigged to suit Stallone's brooding, taciturn screen personality. But, ultimately, this is a fairly ugly, brutally violent and largely unnecessary testosterone fuelled remake that adds little to the original, which set a new standard in gritty realism for British crime thrillers.
Jack Carter (Stallone) is an enforcer in Las Vegas, who leaves behind the sunny climes of Nevada for the dismally wet streets of Seattle to attend his brother's funeral. But when he discovers that maybe his brother's death was not an accident, he hangs around for a while trying to determine who had a reason to kill him. Before long, Carter is delving into an internet porn ring and is butting heads with some pretty shady characters.
For a mystery, the identity of the murderer remains fairly obscure and as muddled as the plotting. The script is surprisingly bland considering the previous credits of writer David McKenna (American History X, last year's date rape drama Body Shots, etc). Director Stephen Kay is better known for having written last year's disappointing remake of The Mod Squad and the off beat independent film The Last Time I Committed Suicide, and his handling of the material here relies on some flashy tricks and fancy editing to disguise the paucity of genuine excitement. This is one of those films that mistakenly equates murky, rain drenched settings with menacing atmosphere.
The film also wastes the talents of a solid ensemble supporting cast in small roles. Miranda Richardson is wasted as Carter's sister in law who hardly welcomes his return home, while Alan Cumming does another of his familiar portrayals of the simpering weakling as a billionaire computer geek. Mickey Rourke gets to beat up on Stallone's character in one scene, which probably makes his surly presence worth while.
The producers have even found a small role for Michael Caine, the original Carter himself, as a bar owner mixed up in the shady dealings, but it's a fairly thankless role. And his presence further serves to highlight the lack of class that Stallone brings to the role.
Don't get this Carter, but hire the original on video instead!
★☆