Reviewed by GREG KING
Director: Andy Tennant
Stars: Matthew Perry, Salma Hayek, Jon Tenney, Tomas Milian, Jill Clayburgh, John Bennett Perry, Sobhan Fallon, Suzanne Snyder, Anne Betancourt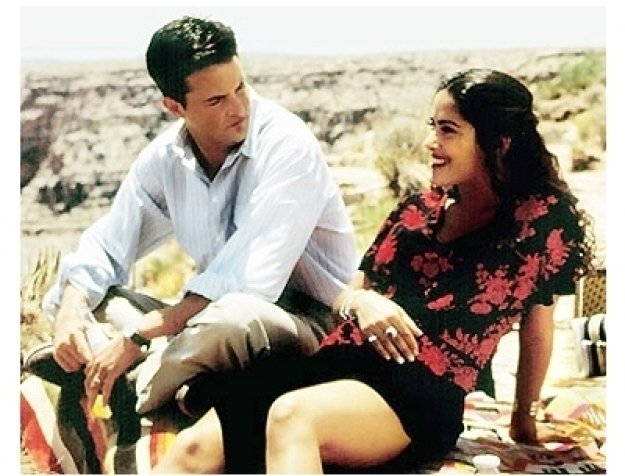 Beautiful, sensuous Mexican actress Salma Hayek makes her long overdue breakthrough into mainstream American movies with this light weight but thoroughly enjoyable romantic comedy that marks a change of pace from her recent dramatic roles. Hayek plays Isabel, a young woman who feels the need to assert her independence and heads off to the glitter and neon lit excitement of Las Vegas. Alex Whitman (played by Friends star Matthew Perry) designs and builds night-clubs for a New York based firm, and is clearly a young man on the rise within the company. His latest assignment takes him to Las Vegas, where he meets Isabel in a bar and spends a night with her. The one night stand is quickly forgotten until, three months later, Isabel turns up at the construction site and informs Alex that she is pregnant. The pair quickly decide to get married, but then they find the relationship is tested as they begin to learn all those little secrets and personal habits that couples usually discover during the normal course of a relationship.
Alex and Isabel are complete opposites, but they slowly begin to recognise that chemistry that exists and somehow makes them perfect for each other. Isabel is fiery, passionate, loves hot and spicy foods, and she is also deeply religious and loves her family. Alex is more easy- going, cautious, and has maintained a healthy distance from his family, whom he only sees, with great reluctance, on special holidays. Isabel loves the excitement and atmosphere of Vegas, whereas Alex loves Manhattan and plans to move back to the city as soon as possible. The film also paints a more romantic view of Las Vegas, and, in particular, the huge Hoover Dam plays an important role in events.
The normally reserved Alex is also having a hard time coming to terms with his impulsive action in marrying Isabel without clearly thinking through the consequences. The obvious differences between the pair are further highlighted during an embarrassing meeting between their respective parents, who initially seem opposed to such a romantic but foolhardy relationship.
The wonderfully written and quite honest script from Katherine Reback explores some interesting angles on relationships, love and marriage and the nature of commitment in the '90's. Fools Rush In looks at that indefinable something that actually makes a relationship work and what attracts people, and it actually has more substance and emotional honesty than the title would suggest. However, the film's more serious subject matter is tempered with some superb one liners delivered with verve by an enthusiastic cast.
Veteran tv director Andy Tennant (who made his feature debut with the very ordinary It Takes Two), makes the most of the admittedly predictable and formulaic material, giving it some depth. He maintains a zesty pace throughout, and draws engaging performances from his two leads, who establish a rapport and chemistry that somehow seems to echo the film's themes. Hayek lights up the screen with her incandescent presence, delivering a fiery, passionate performance that perfectly captures the tone of the film and ranks as one of her finest yet. Perry is surprisingly enjoyable and brings some depth to his role as the initially selfish and shallow Alex, whose inherent nature softens as he comes to appreciate Isabel's strengths.
Veteran Jill Clayburgh (An Unmarried Woman, etc) delivers a wonderful performance as Alex's mother, a romantic who supports her son's wildly impetuous relationship, and she makes the most of her three small scenes. John Bennett Perry (Matthew's real life father) has a small role as Alex's father, but is given little to do and his presence barely registers, while Tomas Milian brings an understated passion and intensity to his role as Isabel's proud father who is opposed to his new son-in-law.
The eclectic soundtrack mixes traditional Latin-American and Mexican rhythms with more popular songs in an obvious contrast in styles that further reinforces the movie's broad themes.
★★☆