Reviewed by GREG KING
Director: Shana Feste
Stars: Alex Pettyfer, Gab rielle Wilde, Robert Patrick, Bruce Greenwood, Rhys Wakefield, Joely Richardson.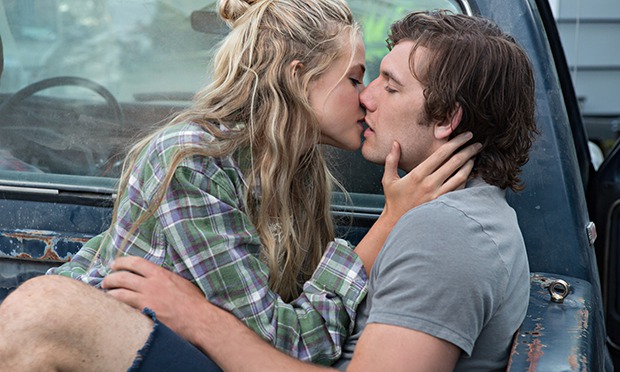 Hitting cinemas in time for Valentine's Day is this rather shallow and pointless remake of the 1981 drama Endless Love, which was based on the 1979 bestselling novel written by Scott Spencer. The original was largely memorable for its Oscar-nominated theme song, sung by Diana Ross and Lionel Ritchie, which became a huge chart topping hit.
The original also starred Brooke Shields, who was at the peak of her career then following controversial films like Pretty Baby, in which she portrayed an underaged prostitute, and The Blue Lagoon. It also starred Martin Hewitt, who was an unknown actor then and whose subsequent career never amounted to much and he faded from the limelight quickly. And the original also featured the film debut of a then unknown Tom Cruise, in a small cameo role as a psychopathic arsonist, a subplot that has been deleted from this remake.
But this sugarcoated and saccharine remake of Franco Zefferelli's fairly forgettable romantic drama turns the material into a bland, contemporary Romeo and Juliet-like romance between the poor, lonely rich girl and the blue collar working class boy from the wrong side of the tracks. There's even a brief balcony scene for those who missed the obvious! Hoping for another breakout tearjerker hit along the lines of The Notebook, co-writers Joshua Safran and director Shana Feste (Country Strong, etc) have taken out all of the edgy qualities about the fine line between self-destructive passion and dangerous obsession, turning Endless Love into a breathlessly conventional and predictable Mills and Boon style romance.
Jade Butterfield (former model Gabrielle Wilde, recently seen in the remake of Carrie) is the bright but lonely girl at her high school, which is emphasised during the graduation ceremony when she wanders forlornly amongst her classmates, who are chatting happily and taking photographs. Since the death of her beloved older brother, Jade has largely withdrawn from social life, spending far too much time at home with her parents in their lavish mansion. The only person interested in her is David (Alex Pettyfer), who has carried a torch for her all the way through high school but has never had the nerve to approach her. His father (Robert Patrick) runs a local garage, and David himself works a summer job as a parking valet at the local country club.
Jade is being pushed by her conservative father Hugh (Bruce Greenwood), a wealthy and successful surgeon, to follow in his footsteps by taking up an internship at a prestigious medical school. Hugh's oldest son recently died from cancer and he feels guilty and helpless because he was unable to save him. But then a romance develops between the virginal and introverted Jade and the rebellious David. Is it merely a summer fling or is it something deeper, something real? As Jade begins to rethink her future plans, Hugh tries his best to break up the relationship by manipulating events behind the scenes. He does his best to drive a wedge between the pair, which causes further conflict, anguish and tension within his own family, who are still dealing with their own grief.
Greenwood is perfectly cast as the pathological and cold hearted father who treats David with condescension at every encounter, and even hires a private investigator to pry into his background. As the main villain of the piece, he does all but comically twirl his moustache, but his obsession brings an intensity to the material that lifts it out of its bland familiarity. Although a little too old to be convincing as a 17-year old, Pettyfer is good as the charismatic David. This is arguably one of his better performances in a career littered with disappointing roles (Stormbreaker, I Am Number Four, etc), and he and Wilde develop a good chemistry, and they capture the exuberance of the passionate summer romance.
Australian actor Rhys Wakefield (Home And Away, The Black Balloon, etc) is good, and brings energy and a playful edge to his performance as Jade's carefree brother Keith, who has recklessly defied his father's expectations. And its good to see Patrick (Terminator 2, etc), who often is stereotyped as the hardnosed villain, in a more sympathetic role here. Joely Richardson is solid as Jade's jaded but pragmatic mother, an author undergoing something of a midlife crisis who is inspired by her daughter's passionate romance.
Ultimately tough, this version of Endless Love is disappointingly bland, a fairly cliched, schmaltzy romance and a familiar tale of infatuation and the loss of innocence. Feste's straightforward direction lacks subtlety or nuances and there is little real visual flair. Shot on location in Georgia (a popular location for many films these days due to good tax concessions) the film looks good as cinematographer Andrew Dunn (Crazy, Stupid Love, The Butler, etc) suffuses the visuals with a dreamy postcard-like visual quality.
★★