Reviewed by GREG KING
Director: Hugh Johnson
Stars: Skeet Ulrich, Cuba Gooding jr, Peter Firth, David Paymer, Hugh Daniel Kelly.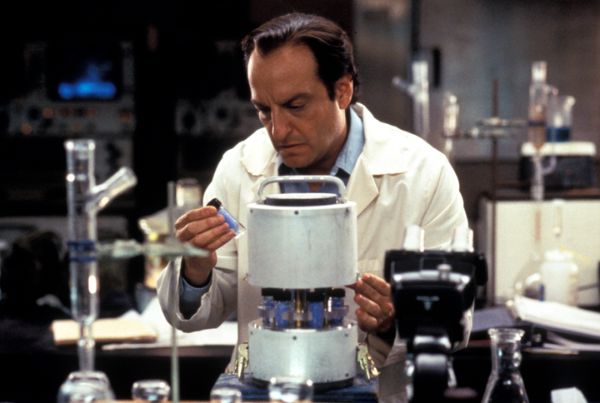 A contemporary variation of the classic Wages Of Fear, with plenty of chases and mindless action thrown in for good measure.
In 1987 scientist Raymond Long (David Paymer) developed a new chemical weapon for the US military that created a fierce heat wave capable of stripping the flesh off humans and destroying all plant life in its path. But when 18 soldiers were killed after an experiment went horribly wrong on an isolated pacific island, the disgraced Colonel Bremmer (Peter Firth) took the fall and spent ten years in the military prison at Fort Leavenworth. Upon his release, Bremmer plots to steal the prototype of the weapon, cutely nicknamed "Elvis", and sell it to the highest bidder on the open market.
The mortally wounded Long manages to make off with the weapon before Bremmer can get his hands on it. He gives it to Tim Mason (Skeet Ulrich, who played the gay hustler in As Good As It Gets), his fishing partner and a "hamburger jockey" at a local diner. Mason has to get the weapon to Fort McGruder before Bremmer can get his hands on it. And, most importantly, he has to keep it cold – below 50 degrees Fahrenheit – or else it automatically detonates, wiping out everything within a hundred mile radius. That's where Arlo's ice cream delivery truck comes in handy.
Arlo (Cuba Gooding jr) is a disenchanted, ex-employee of an ice cream delivery firm, and initially reluctant to become involved in this dangerous task. These two mismatched, reluctant heroes transport their volatile cargo over twisting mountainous roads, trying desperately to outrace Bremmer's heavily armed private army, and the dim-witted local sheriff who thinks Mason is a terrorist.
Chill Factor is a rather clichéd, formulaic odd couple action adventure. However, it does provide some thrills, and moments of excitement and tension that make it better than most of these straight-to- video thrillers. Director Hugh Johnson maintains a reasonably fast pace throughout, not giving audiences much time to dwell on the implausibility of the whole thing.
The performances are also better than one normally finds in this type of film. Gooding brings plenty of his usual smart arse humour and scene stealing style to an otherwise fairly one dimensional and clichéd character, and his presence lifts the film. Ulrich is new to action films, but he seems to have pumped himself up for this role, and he handles the more physical elements quite comfortably. And Firth, who hasn't been seen on screen much lately, is having a fine old time as the villainous Bremmer.
Chill Factor may not be brilliant stuff, but it certainly turns up the heat for a couple of hours of diverting fun and excitement.
★★☆