Reviewed by GREG KING
Director: Miguel Arteta
Stars: Steve Carell, Jennifer Garner, Ed Oxenbould, Dylan Minnette, Kerris Dowsey, Jennifer Coolidge, Megan, Bella Thorne, Sidney Fullmer, Mekai Curtis, Megan Mullally, Lincoln Melcher, Dick Van Dyke.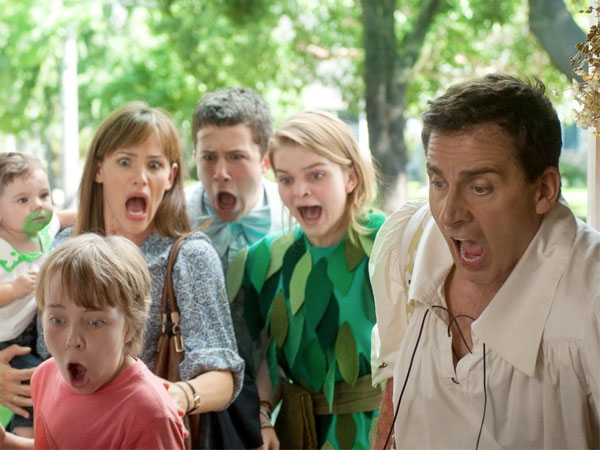 In the same vein as the Diary Of A Wimpy Kid series, comes this family friendly film from Disney, which is based on a popular children's book, written by Judith Viorst in 1972. It has taken nearly four decades to bring the picture book to the screen, but first time script writer Rob Lieber has done a good job of updating the material to make it feel more contemporary. Much of the material here should resonate strongly with younger audiences who are feeling alienated either at home or at school.
But this film with the very long and unwieldy title has a surface similarity also to the Jim Carrey film Liar, Liar, in which a petulant child made a wish which had ramifications for his entire family, but which also proved to be the catalyst that brought them all together and healed a few wounds. There is also a touch of Little Miss Sunshine to the material as well, albeit minus the pitch black sense of humour. The film also seems a little old fashioned as it espouses a few wholesome values and positive morals, without becoming too overtly preachy or didactic.
We are introduced to the Cooper family via an opening sequence in which they all arrive home inn their badly battered car, looking quite frazzled and put out, and it is obvious that they have been put through a hectic and very bad day. An extended flashback then reveals what has happened to the family on this particular day.
On the eve of his twelfth birthday, eleven-year-old Alexander (played with charm by Australian actor Ed Oxenbould, who will also be seen in Robert Connelly's upcoming Paper Planes) feels like he is always getting the short end of the stick while the rest of his family seem to have positive experiences. His father Ben (played by Steve Carell) is a former rocket scientist who has been retrenched but is happy to stay home and play house husband to their new baby Trevor, while mother Kelly (Jennifer Garner) heads off to work with a publishing company. Older brother Anthony (Dylan Minnette, from Prisoners, etc) is dating the hot cheerleader, while sister Emily (Kerris Dowsey, from Moneyball, etc) is about to play Peter Pan in the school play.
Alexander is obsessed with Australia (an ironic reference to Oxenbould's origins), but when assigning countries to his students for an assignment his teacher gleefully gives Alexander a remote African country. And while chatting to Becky (Sidney Fullmer), the girl of his dreams, he manages to set her notebook and the science lab on fire. And his birthday party plans have just been usurped by the most popular kid in class, who has "a hot tub and ADHD", but who has planned an extravagant party and invited all his classmates.
Having experienced one of the worst days of his life, Alexander makes a wish when he blows out his birthday candle, wishing that everyone else in his family can experience a similarly horrible day. And lo and behold the next day proves to be a disaster for the rest of his family as their plans are ruined by a series of escalating mishaps. Ben has a crucial job interview but has to take the baby along; mum's book reading with an uncredited Dick Van Dyke is ruined by an unfortunate misprint; Emily comes down with a cold and overdoses on cough medicine, which threatens her role in the play; and Anthony's plans for the prom go awry.
The younger cast members bring plenty of energy and charm to their performances even when faced with humiliating situations. The role of Alexander is a major breakthrough for the young Oxenbould, but he manages to make the character sympathetic rather than annoying or obnoxious. Carell's role here is hardly taxing, but he brings a genial quality and plenty of manic energy to his performance. And the wonderful Jennifer Coolidge (best known for playing Stifler's mother in the American Pie series) contributes a memorable cameo as a driving instructor.
There are plenty of sight gags and physical slapstick humour here, with the occasional bit of mildly raunchy humour thrown in for today's audience who have been raised on that sort of stuff. The director is Puerto Rican born Miguel Arteta, who has lots of television experience, and who also directed the edgy but little seen comedy Youth In Revolt that saw Michael Cera largely cast against type. He maintains a fast and frantic pace here that suits the material, and there are few slack patches in this enjoyable comedy that should have broad appeal.
And at a rather brisk 81 minutes this enjoyable, entertaining, inoffensive and not too bad movie never outstays its welcome. As far as family films go, Alexander and the very long title is perfectly serviceable entertainment and will more than fill a gap until the far superior Paddington arrives in cinemas a couple of weeks later.
★★★