Reviewed by GREG KING
Director: Sam Raimi
Stars: Bill Paxton, Billy Bob Thornton, Bridget Fonda, Gary Cole, Brent Briscoe, Chelcie Ross, Becky Ann Baker, Jack Walsh.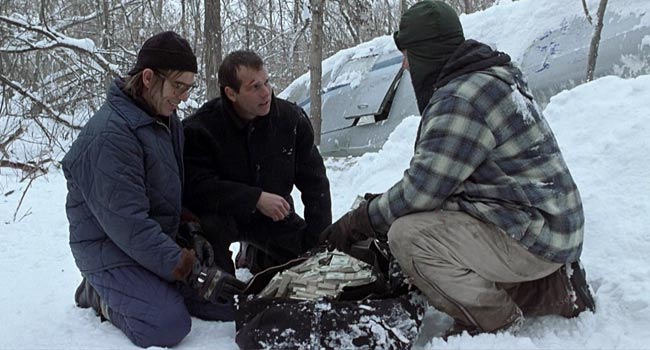 Set in Delano, a small town in America's midwest, during a bitter winter, A Simple Plan invites obvious comparisons to the Coen brothers' Fargo. However, this violent, darkly comic, character driven thriller has a darker and more frightening undertone. A Simple Plan shows how evil can be created out of the most banal circumstances, and how greed and money can change even ordinary people, driving them to acts of violence. The wintry landscape, evocatively photographed by Alar Kivilo, is the perfect backdrop for this bleak, chilling and coolly ironic tale of greed and murder.
The Mitchell brothers and a friend stumble upon a crashed plane buried under the snow. Inside the plane they discover the dead pilot, and a bag containing $4 million. After some discussion, they decide to keep the money. College educated and essentially a decent family man, Hank Mitchell (Bill Paxton) suggests that they hide the money away for six months, waiting until the snow thaws and the plane is found. If no-one claims the money, then they will divide it between them. It sounds a simple enough plan.
But immediately things go wrong as greed, suspicion and mistrust sour the uneasy relationship between the three men. The violent, abusive, unemployed alcoholic Lou (Brent Briscoe) demands his share of the money. Hank's older brother Jacob (Billy Bob Thornton) is unemployed and lonely, but also a little simple and too trusting, and capable of inadvertently revealing their secrets.
Desperate to keep their secret while protecting his wife Sarah (Bridget Fonda), Hank is forced to make some appalling decisions and then live with the terrible consequences. His actions lead to brutal murder and cover up, and he seems to be digging himself deeper into trouble at every turn.
As it explores the tragic consequences of Hank's actions, this tautly crafted and intelligent psychological thriller also has a strong moral undercurrent. Its denouement delivers a terrific irony. Scott Smith has adapted his own tense novel for the screen, and is protective of the novel's dark, psychological territory.
The performances of the cast are superb. Working together for the first time since the chilling thriller One False Move, Paxton and Thornton are both excellent, easily conveying their struggle between essential decency and uncharacteristic greed. Fonda makes the most of her role as Sarah, the shy librarian who soon reveals her own amoral streak.
A Simple Plan is one of those deliberately slow paced films in which the violence slowly escalates. An almost straight forward and conventional thriller, A Simple Plan is an unusual choice for director Sam Raimi, better known for his dark, comic-book-like horror films (Darkman, The Evil Dead, etc). While the film lacks Raimi's usual visual flourishes, it is still full of effectively rendered scenes of menace, slowly building suspense and moody atmospherics.
★★★★