Reviewed by GREG KING
Director: Roy Andersson
Stars: Holger Anderson, Nisse Vestblom, Viktor Gyllenberg.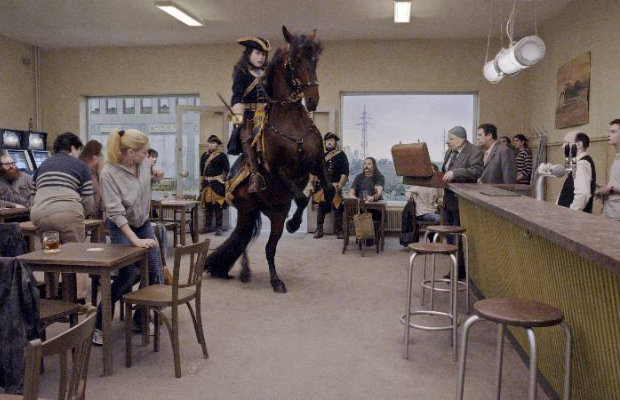 This is Swedish director Roy Andersson's first film in seven years, but it comes with a hefty reputation and lots of critical acclaim, having won the Golden Lion at last year's Venice Film Festival. It concludes his so-called Living Trilogy which included Songs From The Second Floor and You The Living. Here Andersson examines the despair and horror of the human condition in droll and surreal fashion.
The film mainly follows Sam and Jonathan, a pair of sad middle-aged traveling salesmen (played by Holger Andersson and Nisse Vestblom) who move through a bleak and rather humourless landscape trying to unload their meagre catalogue of trick items including false vampire teeth, a laugh bag and a hideous face mask. They are not very successful.
There are a lot of absurdist vignettes throughout the film, some are linked by the recurring characters, thematic threads or even a repeated line of dialogue – "I'm glad to hear that you're doing alright." And then we get to see some of those people on the other end of the phone and realise that they are not doing so well. Despite the light hearted nature of many of the early scenes, the film takes a turn into darker and more troubling territory. One sequence is a scathing critique of the concept of colonialism.
One of the longer sequences involves King Charles II marching his army to war with Russia and stopping off at a bar for a quick refreshment. They kick the women out so the King can enjoy a refreshment. This scene is later repeated as the defeated army slowly makes its way back home and stop off at the same bar. However, this time the women, most of whom are now war widows, remain seated. Another quite touching and lengthy sequence involves an elderly deaf man sitting in a bar, reflecting back on another time in a strangely affecting musical sequence set in that same bar during WWII. An elderly bar maid offers the soldiers and sailors in the bar free drinks in exchange for a kiss, and the sequence is set to the tune of Glory Hallelujah.
The film is full of Andersson's usual stylistic touches – the action unfolds in long takes, the camera remains static, characters are often framed by doorways, the dialogue is delivered in dry and deadpan fashion without any inflection whatsoever, the colour palette is washed out, and many of the characters wear white pasty makeup. However, A Pigeon Sat On A Branch Reflecting On Existence will certainly go down as one of the weirdest films of the year. Andersson's films are something of an acquired taste and not for everybody. Although this film does not have broad appeal, those who have appreciated Andersson's other films will probably find much to enjoy here.
★★☆